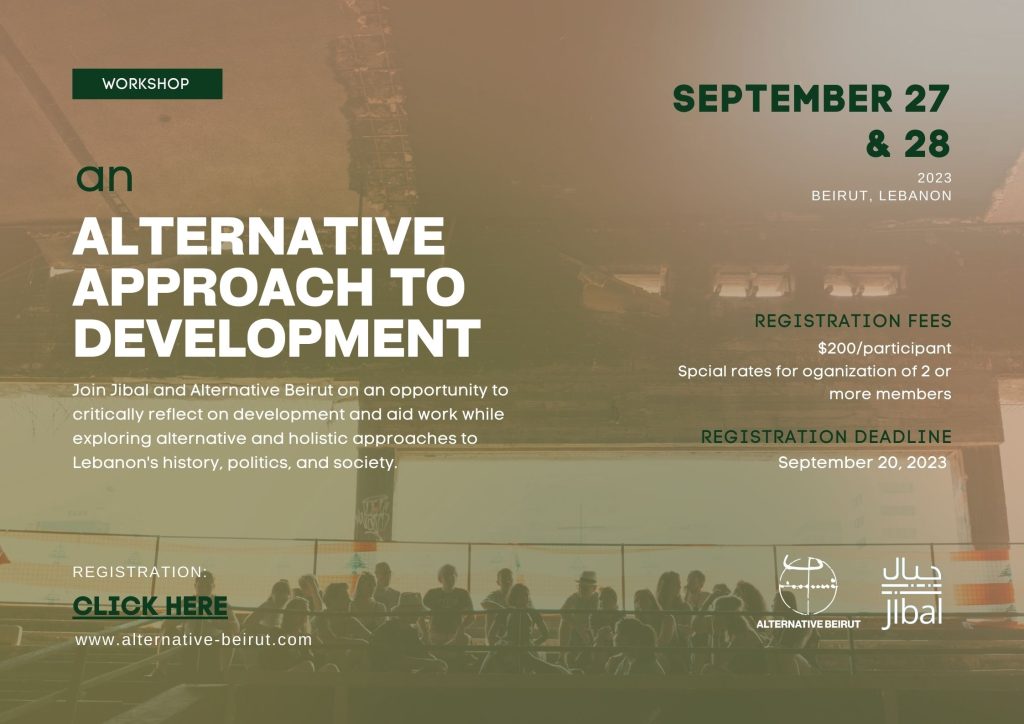 Alternative Beirut and Jibal offer a two-day workshop directed at donor organizations, and development aid workers. The workshop seeks to provide a space to critically reflect on development and aid work, while giving an alternative and holistic approach to history and politics in Lebanon, avoiding the dangers of single-story narratives. The workshop is multidisciplinary and takes into consideration history, society, development, socio-culture, geography, and economy.  
Click here to download the flyer with all the details for this workshop.
Learning Objectives
A change in perspective to the understanding of the context and politics of Lebanon, through a multidisciplinary approach considering: history, geopolitics, class struggles, sectarianism, and economy. The aim is to bring more critical thinking to the understanding of local social dynamics;
Exploring topics of stereotypes, prejudices and privileges;
Acquire tools for thinking about our roles and interventions within a more equitable manner. Acquire tools for mapping society's actors and placing oneself
Acquire tools for mapping society's actors and placing oneself
 Workshop Registration
Duration: 2-day workshop on September 27th and 28th, 2023, from 9:30 AM to 4:30 PM
Price: $200 per participant, including lunch and breaks (Up to 15 participants)
Special rates apply to registrations for organizations of 2 or more members.
Meeting Points:
Day 2: To be communicated on Day 1
For more information, contact us at contact@jibal.org or call +96171447944.