Jibal works to transform the inner workings of the conventional food system in Lebanon – from production, to distribution, to consumption practices– which are extractive towards people and the planet. By working directly with farmers, experts, community influencers, and consumers, we support the growth of agroecology and the food sovereignty movement.  Under this program Jibal conducts bottom-up knowledge production, hands-on training programs, and partnership building with agroecological experts and community 'influencers'.
WHAT DO WE DO?
Capacity Building for Farmers
In 2021, Jibal started training and coaching farmers to shift from conventional farming methods to sustainable ones. The support includes inputs on technical agricultural methods, economical models and finance, and cooperative work. The training includes theoretical and practical work, in addition to individual coaching sessions. We also support more thoroughly key farmers who play an influential role in their area, so they can become local trainers.
Create Alternative Economies for the Food Sector
When aiming for transforming the working conditions of the farmers, Jibal is focusing on alternative economies. Our work includes supporting food producers and consumers to create cooperatives and initiatives that includes collective work. It also involves finding alternatives to the often unfair food chain where traders benefit the mos economically. In 2021, we published a report describing the Alternative Food Initiatives in Lebanon, sharing the challenges they faced and the opportunities for more growth.  In 2022, a farmers market was launched in Beirut, bringing together around 25 farmers from Mount Lebanon.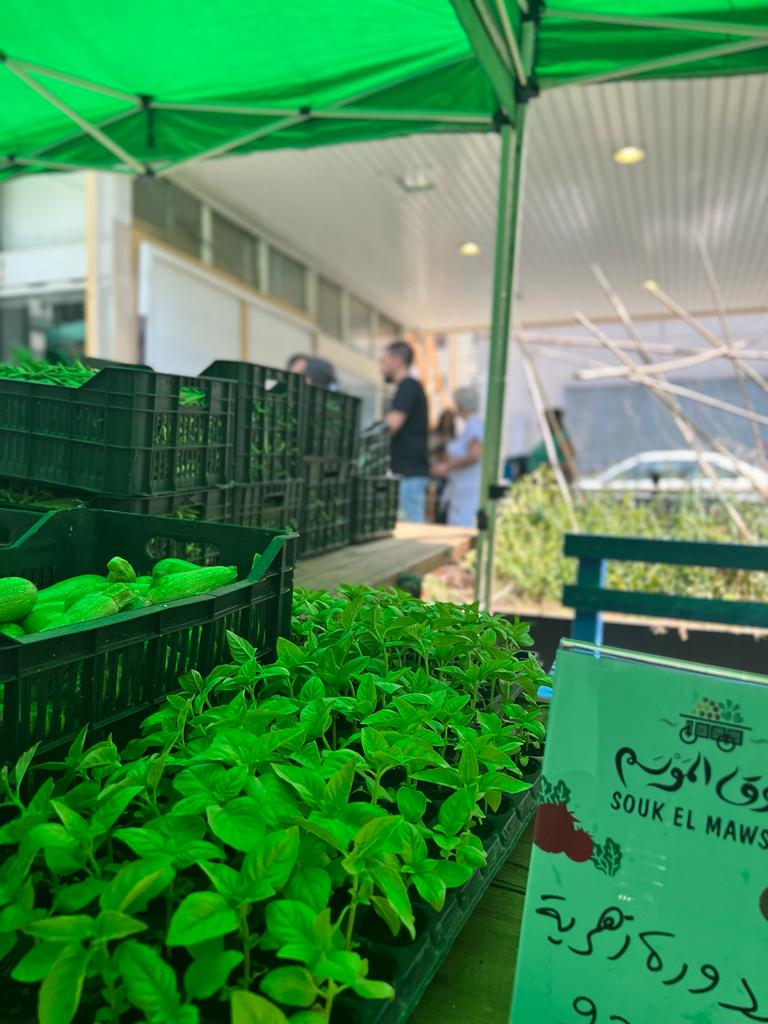 Territorial Food Strategies
While working on specific initiatives is important to show concrete actions and success, we also focus on local governance for the food system. Food Strategies aim at building a common vision for a territory to transition to a more sustainable food system, where production, processing, distribution, consumption, and waste management of food occurs within a specific territory. A well-functioning territorial food system seeks to decentralize power and capital, most often in the hands of large agrofood industries, to the community. A territorialized food system works to promote production, distribution, and consumption practices which respect people and planet, reduce waste along the food chain, promote local products, and more fair value sharing within a given territory. We are currently working in Zgharta Caza and in Zahle and surrounding villages. A publication will be dedicated for this work soon. 
Mobilizing and Organizing
Supporting collectives, networking between stakeholders, and enhancing partnerships, is at the core of many of our projects. This work includes facilitating meetings with farmers to organize collectively, bringing stakeholders to build a food strategy in a specific territory, and supporting consumers to organize in a cooperative.
MORE INFORMATION
What is agroecology?
Agroecology can be understood as a science, a movement, and a practice. More than an agricultural science promoting ecological farming techniques, agroecology rethinks relationships in a food system. As a movement, it recognizes the conventional food system's systemic devaluation of food producers and peasant cultures around the world and calls for more equitable and holistic food system organization. The conventional (or globalized) food system model is structured by large agroindustries who control both agricultural inputs (i.e. seeds, pesticides, herbicides) and end products (i.e. highly processed goods, distribution of fresh produce). This has led to the impoverishment of domestic farmers (due to inability to compete with prices of the global market), the depletion of natural resources and environmental degradation (due to increased intensity and scale of agriculture), as well as wasteful consumption practices (due to a phenomena called the 'cheaper food paradigm').
Why do we use the term food sovereignty instead of food security?
According to the global Peasant movement La Via Campesina, "food sovereignty is the right of peoples to healthy and culturally appropriate food produced through ecologically sound and sustainable methods, and their right to define their own food and agriculture systems". Unlike food security, food sovereignty isn't just about making food accessible for all, because it is entirely possible for people to be food secure under a dictatorship for example. Food sovereignty involves direct democratic participation of food producers, consumers, and everyone in between to determine to what extent they want to be self-reliant, to define their own agricultural practices and to regulate domestic food production and trade to achieve economic and environmental sustainability. It puts people at the center of the food system, instead of profit-driven international corporations. It recognises that in order to achieve sovereignty over our food, sustainability is essential, and hence promotes the use of agroecology as a tool.